Get Organized in 2021 with Hanging File Folders
Are you the person who throws all financial records into one giant box – your W-2s, the 1099s, insurance policies, property taxes, a zillion utility bills, bank and credit card statements, mortgage payments, every other kind of receipt – and then rummages around in there looking for the stuff your CPA wants at tax time? Can't find it, huh? So you just give the accountant your entire box and say, "Here, you do it."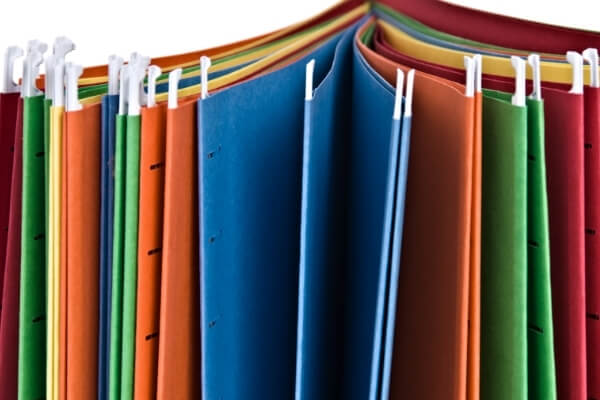 Hanging Files Save You Time and Money
When your records are so disorganized that it's impossible to find anything, you (or your accountant) may not be filing your taxes correctly because you may be overlooking important sources of income or deductions.
Here's good news – a humble office product can fix all that in a flash.
Your desk probably has a drawer with side rails for the hanging files. Take your lunch and box of tissues out of there and install the file folders. Use the little tabs that come with them to label them from A to Z, or by individual companies or topics – whatever works for you.
You'll save time because you can drop your receipts and important papers in the correct file today thus saving you hours of rummaging around looking for things later.
You'll save money because…
Your CPA is probably charging you for extra time spent looking through your records. Not every piece of paper in your giant box is of interest to your accountant. With file folders, you can easily extract the needed docs yourself, thus saving you the additional hourly charges.
Since every document your CPA wants (W-2, 1099, insurance dec pages, property taxes, savings account interest, etc) has already been filed with the government, if you fail to file these things yourself because your records are in disarray, you will get a letter from Uncle Sam saying you owe more money.
And, if you don't pay the extra amount due right away, there's interest and penalties.
Here's more good news…
Postal Connections Has Hanging Files in Stock
Inexpensive and plentiful, hanging files are the workhorse of office organization. Get them in basic Army-green or a variety of bright colors to spruce up that file drawer.
So, c'mon in and stock up on this crucial supply. We thank you for your continued support and look forward to supplying you with all the hanging file folders you need.
You Can Feel Confident About Visiting Postal Connections Because…
Our staff is following health advisory recommendations: wearing protective face masks, washing hands, social distancing, and avoidance of handshaking and other cultural greetings.
We have advised our staff to stay home if they show any symptoms or have come in contact with those who have symptoms.
To protect our staff and customers, we require protective face mask or face covering to be worn while in the store.
We will continue to monitor the situation going forward to ensure customer safety. These measures will remain in place at Postal Connections® until further notice.
Find the Postal Connections store nearest you, and get organized in 2021 with hanging file folders.