More costly than gold, more valuable than Russian caviar, ounce for ounce, the most expensive stuff on Earth is…is…is…printer ink? Yup! Printer ink.
What's in Printer Ink, Anyway?
The basic ingredients of printer ink are things that are inexpensive and easy to pronounce – water, oil, and food dye. The real cost is in the delivery system. Microscopically small amounts of precisely blended inks to match photographs and your computer's color grid must be sprayed out at the touch of a button onto a diverse array of paper surfaces, and dry immediately.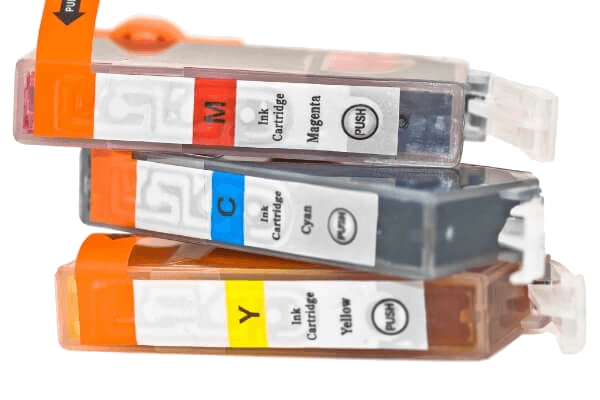 Let's Go Back in Time
Back in the last glacier age, people could not make color prints at home or in their offices. The only 'printing' they did was one-sheet-at-a-time typing on the typewriter. Unless they owned a printing press, they could get fancy with a red-to-black typewriter ribbon or carbon paper, but that was it.
The concept of inkjet printing was first developed in the early 1950s. By the late 1970s inkjet printers could reproduce digital images generated by computer. But not well. At first, engineers had a hard time creating a controlled flow of ink from the print head onto the page, and preventing the print head from becoming clogged with dried ink.
They finally came up with thermal technology to instantly warm the ink to make it sprayable and push the fine mist of ink out of the print head. All of this technology happens in teeny little containers no bigger than a match box.
After more than 20 years of development, inkjet printers finally came on the market in the 1980s. Hewlett Packard's DeskJet printer, which was among the first available to the public, was priced at $1,000 in 1988!
What About the Ink?
Today's printers are inexpensive compared to that 1988 HP. If you have purchased ink for your printer a couple of times, you have probably noticed that the cost of ink builds up to more than the cost of the printer. Just as the price of popcorn at the movie theater often exceeds the price of the ticket, you are paying for the highly-engineered delivery system that took years to develop and maintain.
Postal Connections Has Inkjet Cartridges in Stock!
No need to stand in long lines at the big-box store. Postal Connections offers competitive pricing on the most popular inkjet cartridges and printer paper, as well as friendly personalized service.
Please check your local service center for availability as not all stores offer all products and services.
You Can Feel Confident About Visiting Postal Connections Because…
Our staff is following health advisory recommendations: wearing protective face masks, washing hands, social distancing, and avoidance of handshaking and other cultural greetings.
We have advised our staff to stay home if they show any symptoms or have come in contact with those who have symptoms.
To protect our staff and customers, we require protective face mask or face covering to be worn while in the store.
We will continue to monitor the situation going forward to ensure customer safety. These measures will remain in place at Postal Connections® until further notice.
Find the Postal Connections store nearest you for all your business needs!