Sign Like a Celebrity – With a Sharpie
In 1964, the Sanford Company introduced the first permanent marker that would write on anything – paper, stone, plastic, leather, even glass. Little did they know that Sharpies would catch the attention of celebrities who would use them to sign hats, T-shirts, jackets, coffee cups – anything!
In fact, when Terrell Owens, a wide receiver for the San Francisco 49ers, caught a 37-yard pass for what was the game-winning touchdown against the Seattle Seahawks in October 2002, the receiver pulled a Sharpie out of his sock, autographed the ball, and presented the ball to his business agent. The Sharpie itself later sold at a sports memorabilia auction for $3,654.32.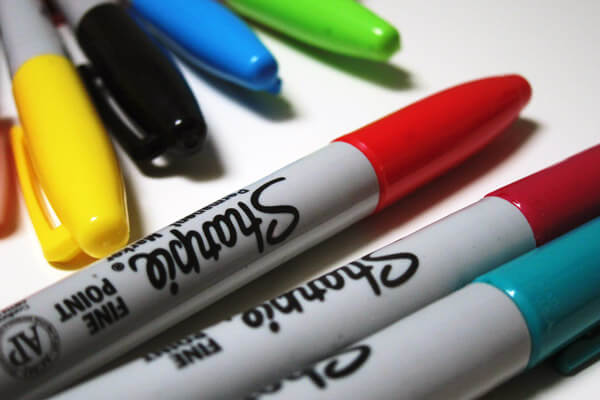 The Sharpie business boomed!
President George W Bush preferred Sharpies over any other writing instrument and had special Sharpies made up with his signature and the words 'The White House' embossed on the marker barrel.
Sharpies now come in all the colors of the rainbow with every type of tip you can imagine – from the original Fine Point Tip to the sculptured Chisel Tip. And guess what…
Postal Connections Has Sharpies in Stock!
Sign like a celebrity and give Sharpies as Holiday gifts to artists, writers, craftsmen, or anybody who needs to write on anything. That means everybody. Stock up on Sharpies yourself to sign your Christmas cards with flair and pizazz.
Pro tip! Postal Connections has a great selection of Holiday cards too… Ready for you to sign them with a Sharpie.
So, c'mon in. We thank you for your continued support and look forward to supplying you with all the Sharpies you need.
You can feel confident about visiting Postal Connections because…
Our staff is following health advisory recommendations: wearing protective face masks, washing hands, social distancing, and avoidance of handshaking and other cultural greetings.
We have advised our staff to stay home if they show any symptoms or have come in contact with those who have symptoms.
To protect our staff and customers, we require protective face mask or face covering to be worn while in the store.
We will continue to monitor the situation going forward to ensure customer safety. These measures will remain in place at Postal Connections® until further notice.
Find the Postal Connections store nearest you, and pick up lots of Sharpies.